BIOGRAPHY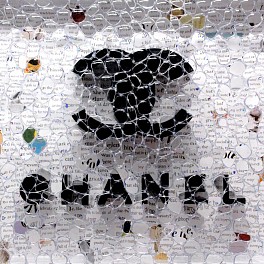 B. 1974 - 2022
David Datuna is a Georgian-born American Artist most widely known for his Viewpoint of Millions series, the groundbreaking Jay-Z / Picasso: Opposition of Imaginations, and the Datuna for Google Glass projects. Contessa Gallery acts as a primary dealer and represents him at prestigious art fairs such as Art Miami and The Armory Show. Datuna was born in 1974 in Tbilisi, Georgia, and began painting after he moved to New York City. A self-taught artist, Datuna's work takes a new direction in abstraction. Using a limited color palette and simple shapes, Datuna succeeds in creating dynamic and expressive works.
In Viewpoint of Millions, Datuna utilizes a technique in which he suspends a network of positive and negative optical lenses over a large-scale collage of photography, newspaper articles, magazine clippings, and paint. In his works, David Datuna skillfully plays with the true meaning and value of the lenses and glasses, giving them a particular meaning and point of view. Using lenses of various diopters in his works, he symbolizes the admissibility of the different points of view and attitudes towards the same image. Lenses symbolically represent illusion, perception, fragmentation, and unification.
Early in 2012 Datuna unveiled his Viewpoint of Millions: Israel Beyond a Dream triptych of Israeli flags. The wall sculptures range in size from seven to eight feet long and five to six feet high, each embodying a different time frame of the Jewish state's history. One represents Israel's past, with black and white images from the Holocaust, the 1948 War of Independence and the 1967 Six-Day War. A second flag encapsulated modern Israel, featuring the flag's blue and white colors incorporated with texts and photographs about Palestinians, the Oslo peace accord, and other topics related to contemporary Israeli life. The texts included excerpts from such books as The Diary of Anne Frank, Revolt by Menachem Begin, Exodus by Leon Uris, and Never Again by Rabbi Meir Kahane. The third flag is a white-on-white intimation of an Israeli flag, the purpose of which is to stimulate viewers to imagine what they would like the Jewish state to become. The series celebrates humanity's strength and the reflective effect of the lenses encourages individual perspective within a sea of viewpoints.
Later in 2012 Datuna donated a portrait of Natalia Vodianova created out of Robert Indiana's LOVE symbol to a charitable auction benefitting Vodianova's Naked Heart Foundation. This was the second consecutive year of Datuna's involvement with the Naked Heart Foundation. In 2011, he donated his installation Chaotic Past.
In David Datuna's 2013 Jay-Z / Picasso: Opposition of Imaginations, two portraits, Picasso and Jay-Z, represent the contact of the conceptions of two diverse artistic periods. This opposition creates an energetic, mental, philosophical, and emotional perspective on art's evolution. The two portraits together serve as a collective image, with Picasso embodying and conceptualizing the energy, fundamentalism, and expression of the 20th century, and Jay-Z's fragmented portrait representing modern art as an experimental puzzle.
Deliberately leaving out any notions of resolutions, David Datuna forces us to re-examine ourselves and his artworks, pushing the viewer to see something more than just the surface image. Through the Jay-Z / Picasso and Datuna for Google Glass projects, David Datuna has become a leading voice and force for the future of contemporary art.