PRESS RELEASE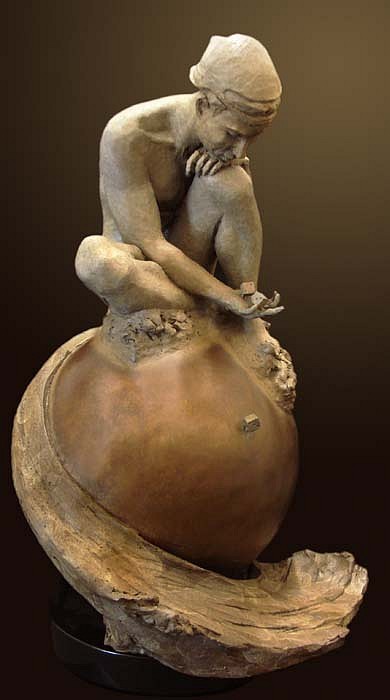 Nguyen Tuan: Transformations and Balance
Aug 6 – Sep 19, 2010
Master sculptor Nguyen Tuan is internationally renowned for his seemingly "weightless" figurative sculpture merging the Western technique with traditional Eastern values. In the course of his celebrated career he has received multiple prestigious art awards and his work has been commissioned and exhibited worldwide. The new works, which will be showcased at Contessa Gallery, are a tribute to the central theme, permeating through all of Tuan's art and infusing it with undeniable energy – that of Balance and Transformation.
Tuan is considered the founder of "Existential Balance", which emphasizes the importance of balance to human existence. The concepts of balance and transformation are ever-present in Tuan's sculpture – expressed physically, spiritually, and metaphorically – through juxtaposition of masculine and feminine, dark and light, rough and smooth surfaces, heaven and earth. Having known many extremes in his life (wealth and poverty, privilege and oppression, sorrow and joy, pain and euphoria), Tuan communicates his experiences to the world by celebrating the human spirit in it's multitude of expressions. Tuan's core values are evident even from the titles of his works: "Benevolence", "Contemplation", "Introspection", "Synergy" – these are just a few of the new works to be on display at Contessa Gallery.
Tuan received his Fine Arts degree from the Art Institute of Southern California. He is a recipient of the prestigious Gloria Medal from the National Sculptor Society (New York). In 2006, Tuan received the coveted Gold Medal for Sculpture from the California Art Club for his work "Rendezvous". Of his many public installations, the Vietnam War Memorial in Westminster, California, his heroic sculpture of Saint Therese in Mobile, Alabama, and the extensive collection of his works at the Plaza in Orlando, Florida are among the most notable. Tuan's latest project is the creation of a Vietnamese Refugee Memorial. Tuan's sculptures can also be found in the permanent collections of the Pasadena Museum of Art and the White House.
"Art is vital for me. It is almost a religion. It means to believe in people, in life, in love. It is a response to what is beautiful and simple. As an artist I do what I do for no other purpose than to express my feelings." – Tuan
The opening receptions with the artist will be held on August 6 and 7th, from 6pm to 9 pm at our Legacy Village location. Tuan will give a gallery talk at 7:30 pm each evening. Please R.S.V.P. to 216.382.7800 if you plan to attend.