BIOGRAPHY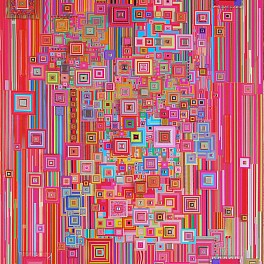 B. 1934 -
Swedroe emerged upon the art scene in 1963, with the first of twelve consecutive one-man shows in major venues across the United States. He was a young architect then. Over the next decade, his collages numbered hundreds, earning both critical acclaim and a succession of notable exhibitions.
He was born in the Bronx, New York and growing up he was a gifted sketch artist, a passion he later pursued as an architectural student at the Carnegie Institute of Technology. There he studied with such luminaries as Buckminster Fuller, Paul Schweiker, Hans Vetter and Joseph Albers. He received his Masters degree from Yale in 1960, and was distinguished with the Eero Saarinen Award for Excellence in Design – an honor bestowed upon only one Yale student per year.
As both artist and architect, his talents fed one another. His body of work reflects two distinctive styles: intricate, complex, narrative assemblages rendered in brilliant colors and his geometric contemporary works with references to subjects such as astronomy and technology. Some assemblages evolve into series. His professional master of structure, form and balance contribute a sense of proportion and discipline to his collage and assemblage work. His latest works challenge the boundaries between two and three dimensions. These new "higher-tech" creations incorporate computer generated elements, monochromatic fields, and a bolder, crisper array and arrangement of sumptuous, thought-provoking imagery.
After more than 30 years of innovation, Mr. Swedroe's contributions to the field of multi-residential design are recognized worldwide. Today he achieves creative balance in both worlds – art and architecture.