BIOGRAPHY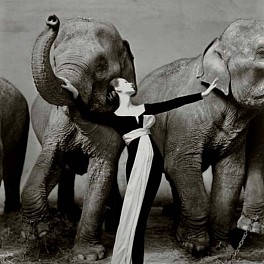 1923 - 2004
Although Richard Avedon first earned his reputation as a fashion photographer, his greatest achievement has been his stunning reinvention of the genre of photographic portraiture.
Avedon was born in New York City to a Jewish-Russian family. After briefly attending Columbia University, he started as a photographer for the Merchant Marines in 1942. In 1944, he began working as an advertising photographer for a department store, but was quickly discovered by Alexey Brodovitch, the art director for the fashion magazine Harper's Bazaar. In 1946, Avedon had set up his own studio and began providing images for magazines including Vogue and LIFE. He soon became the chief photographer for Harper's Bazaar. He showed models full of emotion, smiling, laughing, and, many times, in action.
In 1966, Avedon left Harper's Bazaar to work as a staff photographer for Vogue magazine. In addition to his continuing fashion work, he began to branch out and photographed patients of mental hospitals, protesters of the Vietnam War, and the fall of the Berlin Wall.
During this period Avedon also created two famous sets of portraits of The Beatles. He had always been interested in how portraiture captures the personality and soul of his subject. As his reputation as a photographer became widely known, he brought in many famous faces to his studio and photographer them with a large-format 8 x 10" view camera. Avedon became known for his large prints, sometimes measuring over three feet in height. His large-format portrait work of drifters, miners, cowboys and others from the western United States became a best-selling book and traveling exhibit entitled "In the American West", and is regarded as an important hallmark in 20th century portrait photography. The exhibit and book were a result of a five-year project Avedon embarked on in the early 1980s, producing 125 portraits of people in the American west that caught Avedon's eye.
Avedon became the first staff photographer for The New Yorker in 1992. He won many awards for his photography, including the International Center of Photography Master of Photography Award in 1993, The Prix Nadar in 1994 for his photobook Evidence, and the Royal Photographic Society 150th Anniversary Medal in 2003.
Richard Avedon died in San Antonio, Texas on October 1, 2004 of complications from a cerebral hemorrhage.