BIOGRAPHY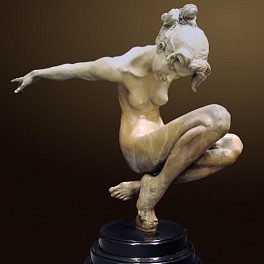 B. 1963
The Vietnamese master sculptor Nguyen Tuan is internationally known for his seemingly "weightless" figurative sculpture merging Western techniques with traditional Eastern values. He has coined the term "existential balance" to bring emphasis to the importance of balance to human existence.
"Once we embrace the true meaning of balance, we can come to terms with our own existence." Tuan
He was born in Vietnam to a family of wealth and privilege. With the fall of Saigon in 1975, however, wealth turned to poverty, privilege to oppression, freedom of expression to imprisonment. In 1989, after several failed attempts to escape Vietnam, Tuan made it into the United States and embarked on a career as a sculptor with renewed energy, passion, and life experience.
"Art is vital for me. It is almost a religion. It means to believe in people, in life, in love. It is a response to what is beautiful and simple. As an artist I do what I do for no other purpose than to express my feelings."
Nguyen Tuan received his Fine Arts degree from the Art Institute of Southern California in Laguna Beach, CA. He is a recipient of the prestigious Gloria Medal from the National Sculptor Society (New York). In 2006, Tuan received the Gold Medal for Sculpture from the California Art Club for his work "Rendezvous". Among his most notable public installations are the Vietnam War Memorial in Westminster, California, the heroic sculpture of Saint Therese in Mobile, Alabama, and the extensive public collection of his works at the Plaza in Orlando, Florida. Tuan's latest project is the creation of a Vietnamese Refugee Memorial. Tuan's works can be found in the permanent collections of the Pasadena Museum of Art and the White House.