BIOGRAPHY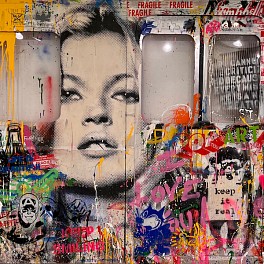 B. 1966 -
Mr. Brainwash, the pseudonym for Thierry Guetta, is an internationally-known Pop Artist and videographer whose street art and Contemporary pieces are highly valued by collectors. Mr. Brainwash utilizes famous artistic and historic images, including Albert Einstein, Charlie Chaplin, Andy Warhol, Kate Moss, and Mickey Mouse, and alters them in significant ways. Born in Paris, Guetta moved to L.A. at age 15 with his father and siblings after his mother passed away. He attended high school for about a year before dropping out and becoming an event organizer in Hollywood.
Guetta sold vintage clothing in L.A., New York, and Miami before his fascination with graffiti was ignited during a trip to France in 1999. There he learned that his cousin was the famous street artist Space Invader. Guetta began filming Invader and other street artists in action, including Shepard Fairey and Zevs. While filming, Guetta encountered the most famous street artist: Banksy. At the encouragement of Banksy, Guetta began creating his own street art and had his first solo show as Mr. Brainwash in 2008. In 2009, Mr. Brainwash assisted Banksy in launching his Los Angeles show Barely Legal, which was attended by notable celebrities and collectors. The two artists then decided to make a documentary following the secretive life of Graffiti artists. Exit Through the Gift Shop, directed by Banksy, includes shots of Invader taken by Banksy and Mr. Brainwash. The film premiered at the 2010 Sundance Film Festival and was nominated for an Oscar. Mr. Brainwash's artistic evolution and rise to fame is documented in the film, and the success of Exit Through the Gift Shop brought Mr. Brainwash a massive following. Musicians such as Madonna and the rock band Red Hot Peppers are fond of the artist, and Mr. Brainwash has been hired for several promotional projects.
Mr. Brainwash's art fuses historic pop imagery with images of contemporary pop culture to create a brand of Pop Art uniquely his own, considered a "graffiti hybrid." The graffiti hybrid style is highly appealing to collectors. Mr. Brainwash's first solo show attracted over 30,000 visitors, and he has had significant sales at prestigious auction houses.