BIOGRAPHY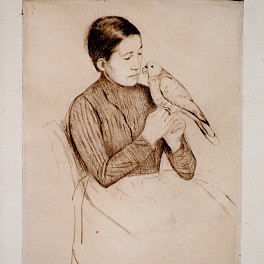 1844 - 1926
Mary Cassatt was born in Allegheny City, Pa., part of current day Pittsburgh, in 1844. She studied at the Pennsylvania Academy of the Fine Arts before continuing her training in France, where she lived for most of her life. In the late 1860s and 1870s, she regularly had works accepted for exhibition at the Salon. Edgar Degas, invited Cassatt, whose experimental feints in the Impressionist direction had begun to alienate the Salon juries, to join the Impressionists in 1877. For all the American artists in Paris, Cassatt was and would remain the only American to participate in the Impressionist exhibitions. She first appeared with them at their fourth annual exhibition, in 1879. In that year she also made her first prints, and would continue as a printmaker until well into the 20th century. She learned much about printmaking from Whistler and Degas, though her style and technique she evolved wholly on her own.
By the time of Cassatt's participation in the last Impressionist exhibition, in 1886, the avant-garde had moved on. Cassat thoroughly mastered the Impressionist technique and continued to work in this style throughout her life. In 1888 she began her renowned series of paintings and prints of intimate scenes between mothers and children. She seamlessly synthesized the rigorous academic training she had received in the 1870s with the radical impulses of the Impressionist movement.
Paul Durand-Ruel sponsored Cassatt's first solo show in Paris in 1891. In addition to paintings, that show included 10 color prints. She used drypoint, aquatint and etching in an innovative combination, and sought effects like those of ukiyo-e woodblock prints — only better, with finer line and more varied color. It took her a year to produce 25 prints of each of the 10 images, but the result was one of the greatest artistic and technical feats of printmaking in history.
From the mid-1890s on, Cassatt's art grew more conservative, in part due to her deep immersion in art history as she helped her dear friend Louisine Havemeyer build her stupendous, encyclopedic collection. By the beginning of World War I, cataracts had taken away most of her eyesight, debilitating her ability to produce art. Still vigorous, she remained in France throughout the war, performing humanitarian deeds and aiding the French cause.
Cassatt died on June 14, 1926 at Château de Beaufresne, near Paris.