BIOGRAPHY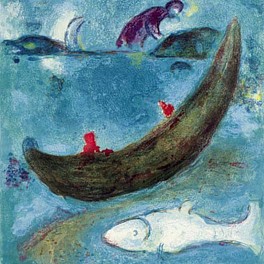 1887 - 1985
Marc Chagall was born in Vitebsk, Russia in 1887, Chagall went on to become one the most well known artists of his time. He was a multi-faceted artist who worked in numerous mediums and styles; he was a painter, printmaker, sculptor, and set designer. Chagall's distinct style reflected elements of cubism, expressionism, and surrealism and he left behind a brilliant legacy with his prolific body of work.
After learning the basics of drawing at grade school, Chagall moved on to study painting at the Imperial Society for the Protection of the Arts in St. Petersburg from 1907 to 1910. While here, he was able to study under Leon Bakst and undoubtedly his interest in set design comes from his time with him. In 1910, he moved to Paris, where he would spend most of his life, besides . There he met poets Guillaume Apollinaire, Max Jacob, Blaise Cendrars, and Andre Salmeon, as well as the painters Amedeo Modigliani, Robert Delaunay, and other Cubists and Independents that would later influence his work. With these artists, he participated in the 1912 Salon des Independants and the Salon d'Automme.
Apollinaire introduced Chagall to Herwarth Walden, the German publisher and dealer in Berlin, 1914. This resulted in Chagall's first one-man show in the same year. He returned to Russia to marry, and after the Revolution of 1917, he was appointed Commissar of Fine Arts for Vitebsk, and founded an art school there. He directed the school until 1920 when disagreements with the Suprematists forced him to resing. After his resignation, he moved to Moscow where he designed murals for the Moscow Jewish Theater in 1922. Chagall then returned to Paris after a short stay in Berlin, where he stayed long enough to engrave illustrations for a book.
In 1923, Chagall's was introduced to the art dealer Ambroise Vollard, and his first retrospective exhibition was given at the Barbazange-Hodebert in Paris the next year. His first New York show dates from 1926. In 1927, he undertook the illustration of La Fontaine's Fables completing 100 plates in 1930. In 1931, he traveled to Palestine and Syria to study themes for Biblical engravings. He continued on to Italy, Spain, Poland, and the Netherlands, creating work along the way, and continually evolving his style. The Kunsthalle Basel held a major retrospective of his work in 1933.
Chagall fled to the United States during World War II, and The Museum of Modern Art gave Chagall a retrospective in 1946. Although he returned to France in 1948 to live permanently, Chagall continued to travel the world. Most of his traveling coincided with commissions for stained glass windows and sculptures. The Musee du Louvre in Paris exhibited work he made from 1967 to 1977 in large scale show in 1977-78, and few years later in 1985, the Philadelphia Museum of Art held a large respective of his work. Chagall passed away during the show 1985 at the age of 97.