BIOGRAPHY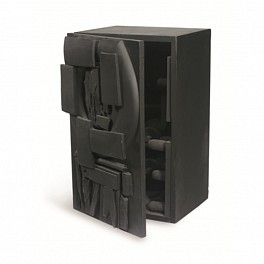 1899 - 1988
Louise Nevelson was a famous American sculptor known for her abstract expressionist "boxes" grouped together to form a new creation. She used found objects or everyday discarded things in her "assemblages" or assemblies, one of which was three stories high: "When you put together things that other people have thrown out, you're really bringing them to life – a spiritual life that surpasses the life for which they were originally created."
Nevelson was born on September 23, 1899 in Kiev, Russia to a Jewish family. Her father was a contractor and a lumber merchant. The family immigrated to the United States around 1905 and settled in Rockland, Maine. As a girl, Louise played with timber all the time and set her sights on becoming a sculptor by age ten.
In 1920, she married Charles Nevelson and moved to New York. At this time, she studied visual and performing arts, including drama, with Frederick Kiesler. Nevelson enrolled at the Art Students League in 1928 and also studied with Hilla Rebay. During this period, she was introduced to the work of Marcel Duchamp and Pablo Picasso.
In the early 1930s, she worked with the renowned Mexican painter and political activist Diego Rivera at the New Workers School, NY. Shortly thereafter, in the early 1930s, she turned to sculpture. Between 1933 and 1936, Nevelson's work was included in numerous group exhibitions in New York. During the 1940s she had five major exhibitions revealing the influences of surrealism and collage. The Circus, The Clown Is the Center of the World (1943) was one of them and very important for her career. She was prodigiously productive during the next fifteen years, as she evolved the sophisticated collage made of wood scraps that became her specialty. This helped secure her reputation as a pioneering American environmental artist and gave her a prominence she had never achieved before.
In 1959, Nevelson participated in her first important museum exhibition, Sixteen Americans at the Museum of Modern Art, New York. She was included in the Venice Biennale in 1962. Nevelson was elected president of National Artists Equity in 1965 and the following year she became vice-president of the International Association of Artists. Her first major museum retrospective took place in 1967 at the Whitney Museum of American Art, New York. Princeton University commissioned Nevelson to create a monumental outdoor steel sculpture in 1969, the same year the Museum of Fine Arts, Houston, gave her a solo exhibition. Other Nevelson shows took place in 1970 at the Whitney Museum of American Art and in 1973 at the Walker Art Center in Minneapolis.
During the following decades, Nevelson – known for her forceful public personality, a flamboyant style of dress, and her trademark false eyelashes – exhibited widely throughout the major art centers of the world and received many public commissions. To commemorate her work, the Louise Nevelson Plaza in Lower Manhattan, an entire outdoor garden of her metal collages, was established in 1978 and dedicated in 1979.
Nevelson died in her home in 1988, aged 88, but has retained her reputation as one of the most significant artists of the twentieth century.