BIOGRAPHY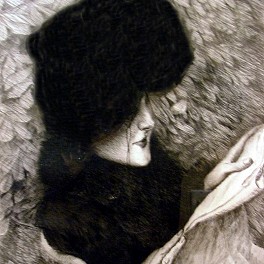 1836 - 1902
Although it is possible to identify the influence of Whistler, Symour Haden, and to a certain extent Degas, in the etchings and drypoints of Tissot, it is the subjects of his etchings which distinguish the artist from his contemporaries. He used a combination of etching and drypoint to capture the melancholic moods which underlie his often apparently frivolous subjects, the psychological content being perhaps a reflection of his own troubled character and his tragic liaison with his mistress, Kathleen Newton.
He first exhibited at the Salon in 1857, beginning with portraits and then in 1864 moving to scenes of contemporary life. After taking part in the Siege of Paris and the Commune he found it advisable to retreat to London, remaining there for ten years. He became very popular for his highly finished society scenes, in which he cleverly captures nuances of social behavior. In their extensive use of black and white they show his debt to Manet and Whistler.
Tissot is frequently classified as a Victorian artist, even though he actually spent only ten years in England. His early instruction in art was with La Motte and Flandrin in Paris. The influence of Realism could be seen in his style, if not his subjects, as forms and environments were depicted with meticulous detail and precisely graded tones.
Tissot went to England after 1870 - 1871, a year during which he was involved in the French-Prussian war. While in London, he worked with Seymour Haden, and added drypoint to his repertoir of intaglio media. Even in his English works, there is an indefinable flavor, which places all of Tissot's oeuvre within the French school. "He was clearly incluenced by the Belle Epoque style and the overall feeling in his drypoints is certainly romantic combined with an eye toward decoratve beauty unmatched by his ontemporaries. In a startling turn mid-way through his career, Tissot turned to religious subjects and began basing his compositions on Biblical stories. Later, he retired to the Monastery of Buillon where he died in 1902.