BIOGRAPHY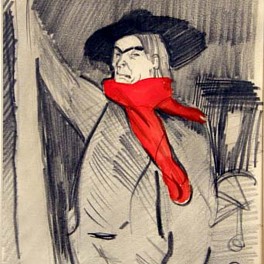 1864 - 1901
Henri Marie Raymond de Toulouse-Lautrec-Monfa was born as the son of an aristocratic and wealthy family in the South of France. Encouraged by his fragile health, Toulouse-Lautrec developed a passion for drawing and painting. He received painting and drawing lessons by a professional artist of the time, Rene Princeteau.
At the age of 12 and 14, the young Toulouse-Lautrec broke both his legs. These injuries never healed properly and stopped the growth of his legs while the rest of his body continued to develop normally. He never managed to cope mentally with this disability.
The young Toulouse-Lautrec went to Paris in 1882 to attend different, conventional painting studios where he met the artists Emil Bernard and Vincent van Gogh. Soon he was more attracted by the Impressionist artists like Edgar Degas than by the conventional painting style and gave up his painting lessons.
Toulouse-Lautrec lived in the Montmartre section, the nightlife quarter of cabarets, cafes, restaurants, sleazy dance halls and brothels. He soon emerged himself into this world and became a part of the bohemian community. In the evenings, he could be seen chatting with friends and drinking, and at the same time drawing sketches on paper. Then the next day, he would transform the sketches into paintings and lithographs.
Toulouse-Lautrec exhibited his first works in the cafes and restaurants of Montmartre. His paintings soon attracted general attention and he received his first commissions.
As his fame grew, so did his consumption of alcohol but he managed to keep up with his passion for painting and printmaking at the same time. He soon had a few exhibitions in galleries, acquired general recognition and was flooded with commissions.
The lithographs of Toulouse-Lautrec show the famous personalities of the French Belle Epoque. Lautrec knew them all personally - singers and dancers like Yvette Guilbert, May Belfort, Jane Avril or the poet Aristide Bruant. Many of these lithographs were commissioned by these artists for posters, theater billboards or as illustrations for magazines.
The impressionists saw Ukiyo-e art (Japanese woodblock prints) and were impressed. And like so many other artists of the late nineteenth century, Toulouse-Lautrec was also impressed and started collecting Japanese art. At that time, everything Japanese was en vogue - very fashionable.
Japanese printmaking had a very pervasive influence on his style. For Toulouse-Lautrec, movement and forms were important. His compositions, unusual perspectives and the use of large areas of flat color are undoubtedly inspired by Japanese prints.
It is not only the form of his designs. It is the same environment in which both his works and the art of the great Ukiyo-e artists were created in the world of the pleasure quarters, restaurants, actors, theaters and brothels. It is this same world out of which the commissions came - prints and posters as an advertising medium for theater plays or newly opened tea houses, respectively bars.
After 1897, the artist spent his time more in the bars than in his studio. In 1899, he suffered a severe nervous breakdown and was confined to a clinic for three months. He tried to recover his health by staying at sea resorts in Normandy and at the Atlantic coast. But he could not overcome his alcohol abuse. His health was completely deteriorated. He suffered a stroke with a subsequent partial paralysis and was taken to the castle residence of his mother on August 20. A few days later, on September 9, Henri de Toulouse-Lautrec died at the age of 36.