BIOGRAPHY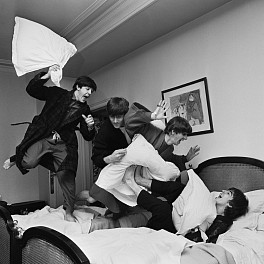 B. 1929 -
Harry Benson was born near Glasgow, Scotland. The photographer was assigned to travel with the Beatles on their first American tour in 1964. His iconic photograph shows the band in a gleeful pillow fight in a hotel room. Benson has photographed every U.S. president from Eisenhower to Barack Obama. He was feet away when Bobby Kennedy was assassinated; in the room when Nixon resigned; with Martin Luther King, Jr. on the Meredith march; and with Coretta Scott King at her husband's funeral. Benson chronicled the building of the Berlin wall and its fall, and covered the aftermath of Hurricane Katrina.
Benson received the 2005 LUCIE Award for Lifetime Achievement in Photography and the 2005 AMERICAN PHOTO Magazine Award for Achievement in Photography. He was awarded the 2006 Lifetime Achievement Award from the Scottish Press Photographers Association and has received the Leica Medal of Excellence twice. In 2009, Benson was appointed a Commander of the Order of the British Empire by Queen Elizabeth II.
Benson has taken over one-hundred cover shots for People Magazine, and his photography has been featured in Architectural Digest and Newsweek. He was under contract with LIFE Magazine from 1970 to 2000 and is currently under contract with Vanity Fair. Benson has had more than forty solo gallery exhibitions and has had fifteen books of his photography published. His photography is in the permanent collections of the Smithsonian and the Scottish National Portrait Gallery in Edinburgh. Both museums exhibited the 2006-2007 exhibition, Harry Benson: Being There, and the Kelvingrove Museum in Glasgow held a major retrospective of the photographer in 2008.