BIOGRAPHY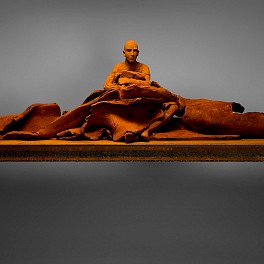 B. 1947 -
Hanneke Beaumont was born in Maastricht, Netherlands in 1947. After studying dentistry in the United States, she moved back to Europe, to Belgium, where she still lives today. Beaumont started her artistic studies in 1977 at the Académie de Braine l'Alleud, then at La Cambre & in Anderlecht, and received her first solo exhibition in 1983. Beaumont currently works in Brussels and in Pietra Santa, Italy.
An important turn in her career happened in 1994 when she was awarded the major award of Centre International d'Art Contemporain Château Beychevelle for her sculpture group "Le Courage". Shortly after this, she participated in the second Exposiciòn Internacional de Esculturas en la Calle, organized by the Colegio de Arquitectos de Canarias in Santa Cruz de Tenerife, where her work was permanently installed. Many other public and private collectors have manifested great interest in her work. She now enjoys an international reputation with exhibitions in the US, Canada, Belgium, France, Germany, Spain, the Netherlands, and Switzerland.
Beaumont's sculptures are realized in terracotta, bronze and cast iron, and she is known for sculpting figural life-sized human forms. Her gender neutral subjects are impressively passé in posture, and are meant to symbolize the general nature of the human race.
Her works can be found in the permanent collections of the Frederik Meijer Gardens and Sculpture Park, Grand Rapids, MI; Vero Beach Museum, Vero Beach, FL; on view in the City of Bad Homburg v.d. Hone; in Brussels in front of the European Council of Ministers and; and in several other major public venues.
Hanneke Beaumont was just awarded - by the City of Pietrasanta through the cultural circle "Fratelli Rosselli" - the 21st "Premio Pietrasanta e la Versilia nel Mondo" award (2011), the honor previously given to Fernando Botero, Kan Yasuda, Jean-Michel Folon, Giò Pomodoro, Igor Mitoraj, Helaine Blumenfeld, Novello Finotti, and Marc Quinn.