BIOGRAPHY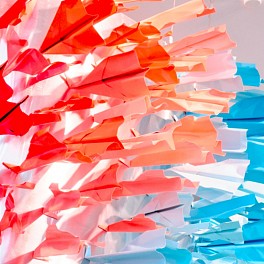 B. 1976 -
Daniele Sigalot was born in Rome in 1976. His artistic talents were initially fostered within the advertising field. Sigalot worked for seven years among several major agencies in Italy, Spain and Great Britain. In 2007 he left Saatchi and Saatchi London to dedicate himself full time to the artistic project by the name of Blue and Joy, which he founded with Fabio La Fauci in 2005. For years, the project's name is a nom de plume of the Sigalot/La Fauci duo, which they continued their prolific four-handed production until 2013. At the end of 2014, the duo dissolved its partnership and Daniele Sigalot went on with his solo career focusing his works on big aluminum installations and unconventional mosaics. Major brands, such as Fendi, have utilized his artistic talents to elevate their brand with custom installations and window displays.
The center of his research spins around the ambiguity between the perception of the materials he uses, and their actual nature, thus creating a sublime contrast that is the core of his entire production. Sigalot's most recognizable works are certainly the massive paper plane installations. Upon first glance, the individual plane components of the installation are made out of paper, an ephemeral material. In actuality, they are each carefully hand-crafted out of metal.
Together, with these fleets Daniele Sigalot has literally flown around the world, he has installed and exhibited his planes in more than thirty cities to the four corners of the globe.