BIOGRAPHY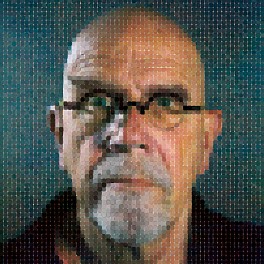 B. 1940 - 2021
Chuck Close is an American photographer, photorealist painter, and printmaker. Most of his works are large-scale portraits based on photographs of his family, friends, himself, and fellow artists. His works hang in the world's most prestigious museums, and he is considered to be one of the most influential people in the art world.

He always liked to draw, and at age of 4 he knew he wanted to be an artist. In 1962, he received his B.A. from the University of Washington in Seattle. He then attended graduate school at Yale University, where he received his MFA in 1964. After Yale, he lived in Europe on a Fulbright grant. When he returned to the U.S., he worked as an art teacher at the University of Massachusetts. In 1969 his work was included in the Whitney Biennial, and he had his first one man show in 1970. Close's work was first exhibited at the New York Museum of Modern Art in early 1973.

To create his iconic grid-work images, Close puts a grid on the photo and on the canvas and copies cell by cell. His first tools for this included rags, an airbrush, a razor blade, and an eraser mounted on a power drill. His first picture with this method was Big Self Portrait, a black and white picture of his face enlarged to 107.5 by 83.5 inches in 1968. He made seven more black and white portraits during this period.

For more than 30 years Chuck Close has explored the art of printmaking. While a painting can occupy Close for months, it is not unusual for one print to take up to two years to complete, from concept to final edition. Close has complete respect for, and trust in, the technical processes - and the collaboration with master printers - essential to the creation of his prints. The creative process is as important to Close as the finished product.

In 1988, Close had a spinal artery collapse that left him a quadriplegic. Many thought his career was over, but not only did he return to painting, he returned with a new style that has kept his place as one of the great American painters of our time.

Chuck Close was awarded the National Medal of Arts in 2000. Today he lives and works in New York.