BIOGRAPHY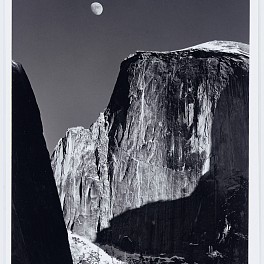 1902 - 1984
Ansel Adams was a commercial American photographer for 30 years, best known for his black and white photographs of California's Yosemite Valley.
Adams was born in San Francisco, California to an upper-class family. His original goal was to become a concert pianist, but after seeing Paul Strand's negatives, he became interested in photography instead.
At age 17, Adams joined the Sierra Club, a group dedicated to preserving the world's natural wonders and resources. He was an avid mountaineer, participating in the club's annual "high trips", and was later responsible for several first ascents in the Sierra Nevada. It was there that he first found that he could make photographs that were, in his own words, "...an austere and blazing poetry of the real". Adams was an avid environmentalist, and his photographs record what many of these national parks were like before human contact.
In the 1930s, Adams created a limited-edition book of his photography, entitled "Sierra Nevada: The John Muir Trail". In 1932, Adams had a one-man show at the M.H. de Young Museum in San Francisco, in which he displayed 80 photographs in three galleries. The same year, together with Imogen Cunningham and Edward Weston, Adams founded the Group f/64. This group was based on the principles of "straight photography", or unaltered prints, which stood in opposition to concepts of pictorialism. Then, in 1952, Adams went on to be one of the founders of the magazine Aperture.
In his lifetime, Adams was the recipient of three Guggenheim fellowships, and in 1980 Jimmy Carter awarded him with the Presidential Medal of Freedom, the nation's highest civilian honor.
Ansel Adams died in 1984 from heart failure aggravated by cancer.