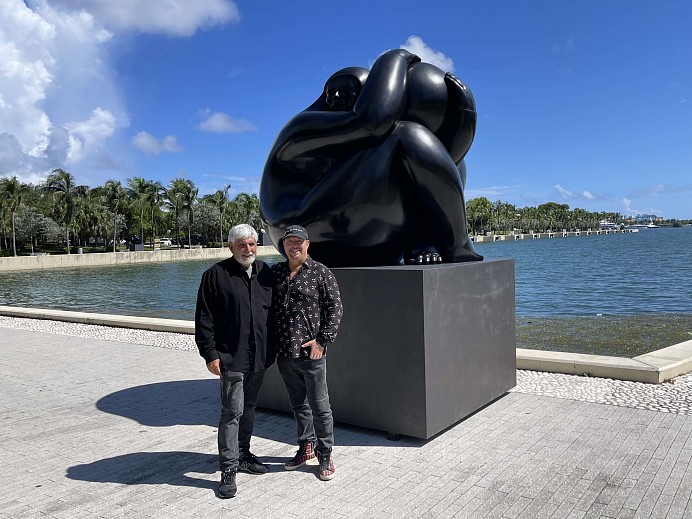 CONTESSA GALLERY ANNOUNCES MAJOR ARTIST PARTNERSHIP AND REPRESENTATION
November 1, 2022
Where: Maurice A. Ferré Park, 1075 Biscayne Blvd, Miami, FL
When: Open now, on view until March 31, 2023
Contact: Steve Hartman, +1 (216) 956-2825
Miami, FL - "A Bridge of Light," is an outdoor exhibition at Maurice A. Ferré Park by renowned Costa Rican sculptor Jorge Jiménez Deredia. The exhibition opened Wednesday, October 12th, 2022 and will be on view until March 31, 2023. The artist is held in such high regard for his skill, that the Vatican commissioned him to create a sculpture to be displayed in St. Peter's Basilica, the first work by a Latin American and non-European artist to join the Vatican's collection. Now 23 years later, another first, with Miami, FL being the first American city in which Deredia has displayed an outdoor exhibition. Contessa Gallery proudly represents the artist in the US and worldwide. The 14 sculptures being exhibited are world-renowned. They have been exposed in some of the top cities in Europe and Latin America and now they're in Miami, FL for viewing until March 2023.
"A Bridge of Light" is a collection of works that focus on the journey of life. "My art, my sculptures, what I know how to make, I hope it becomes a bridge of light," he said. "It conjures images from our spirituality and places them in the experience that we are living, which is life." The sculptures are mostly spherical, round, and perfectly smooth. If it weren't for the strong bronze and marble material, you'd think the works would be soft to the touch. Now that his work is in Miami, Deredia said he is excited for people from all walks of life to experience his work and connect to its positive message.
Contessa Gallery is extremely proud and excited to present an extensive selection of Jiménez Deredia's works during Art Miami 2022; Booth AM542, November 29th through December 4, 2022.
Back to News