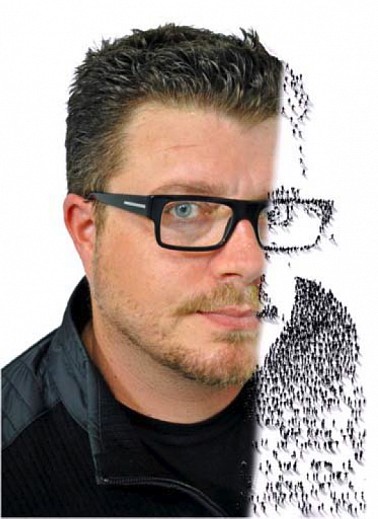 Craig Alan: The Future Is Not Written
June 26, 2017 - Nashville Arts
Contessa Gallery's Craig Alan is an artist with a restless eye, pushing the boundaries of visual expression with no regard for stylistic constraints. Alan's body of work co-opts numerous styles from pop-surrealism to magic realism to neo expressionist abstraction and representation. His most recent work, which he refers to as the Populus series, steps outside the tropes of those well-worn formal enterprises with strikingly original images created from hundreds of tiny figures on a white ground.
At first glance the paintings look like aerial photographs, but a closer inspection reveals that they are painstakingly hand-painted. The images had their genesis in some photos Alan was taking of a wedding party from a high-rise balcony. "Later on that evening I noticed, in one shot, the group of people appeared to have formed an eye. That's all it took to get the gears moving fast. With me it doesn't take much, but that one photo is what started it all," according to Alan.
"Each piece will contain a range of 400 to 1,800 people in it depending on the type of work it is," says Alan. The creative process is labor intensive: "I can spend anywhere from 50 to 150 working hours on one painting depending on the size… however, I like to work on more than one painting at a time. Normally I have four to six paintings working at one time. I like the challenge, and it sparks new ideas."
These images have a real "wow" factor to them that comes from the realization that the larger picture is composed of so many intricately rendered figures. "It's rewarding for me as an artist to watch people's reaction to my work and to see them get such enjoyment out of it," says Alan. He hopes that viewers of these paintings will realize "that we are all part of something greater than ourselves, and if we work together we could achieve greater balance . . . not in a religious sense but rather a universal sense."
Alan's other work is drastically different from the Populus series. His Motivo series includes images that range from colorful abstractions to paintings of figures floating on expressionistic grounds to more traditional abstracted figure paintings, some of which are reminiscent of the work of Basquiat.
In the series referred to as Novel Anthology, Alan uses a combination of traditional representational techniques to create literal visual metaphors, portraying children with animal heads lingering in murky woods or dark interiors. In other images the figure has been removed, leaving ghostly dresses floating on atmospheric grounds.
The images bring to mind the work of painters like Ray Caesar, Mark Ryden, or Todd Schorr, whose pop-surrealist paintings maintain a sense of mystery behind their implied narratives. Alan admits that his images are meant to be literal, and his press materials go so far as to provide a blow-by-blow analysis of the meaning of each element in an image—effectively turning them into illustrations rather than fine art.
There's no relationship between these very different bodies of work according to the artist. Alan prides himself on his eclectic creative process, which is reminiscent of an "old-school" postmodern approach to painting in which many different styles are appropriated to create work that functions as a critique of other art.
According to Alan he isn't really working from this type of conceptual base; rather he's simply commandeering myriad creative approaches to keep his painting fresh. "I am a student of the arts and will be until I pass," says Alan. "I love to study and practice technique. These paintings are merely an extension of the abilities bestowed upon me."
Alan is unsure about the future path his work will take: "I have no concrete plans for the future other than to learn as much as I can and process that knowledge into visual conception. The universe has cast me here to create visual planes. . . and all I know is I can't stop creating. The future for me is not written. All I know is I can't stop creating."
Back to News