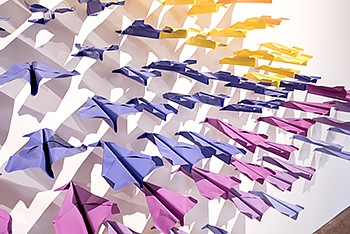 TUTTO È GIÀ VOSTRO (All Is Already Yours)
May 23, 2017 - Contessa Gallery
All Is Already Yours
Blue and Joy (Daniele Sigalot) Exhibition at the Royal Palace of Caserta, Italy
Contessa Gallery's Blue and Joy (Daniele Sigalot) will exhibit the largest installations of his career at the Royal Palace of Caserta in Italy this summer. The exhibition, which will span seven rooms within the palace, is a result of a long study of the Royal Palace of Caserta and its history. The study reaches beyond the mere contrast between the contemporary period and the past.
The artist's intention for the exhibition is for the viewer to identify with the members of the court of the Royal Palace. It is also to integrate Sigalot's work within the monumental narrative that is the Palace's architecture.
The title of the exhibition, All Is Already Yours, is a tribute to Charles III of Spain. Sigalot adopted the title from Volume I of Antiquities of Herculaneum Exposed, a fundamental work about the culture of the antiquity, born from the activity of the Herculaneum Academy and founded by Charles III himself.
"In offering to Your Majesty, the Volume I of the Antiquities of Herculaneum and region, concerning a very small part of your paintings, we feel the great honour resulting from Your benignity. All of what we bring to You is already Yours." -Regia Stamperia, 1757
Like the Herculaneum Academics, Daniele Sigalot is aware that offering something to a king, who already owns everything, is an audacious gesture and the ability to surprise him is even more bold. The artist parallels the king in 1757 with the millions of visitors in the 21st century. The capacity to surprise the modern viewers is more difficult because they are already immersed in the aged masterpiece that is the Palace.
When placing the paper planes, made from meticulously cut and folded aluminum, Sigalot takes into consideration the environment in which they are displayed. The placement of the installations compliments the Palace's distinct architecture. Each individual plane adds a sense of modernity to the historic and sacred space. The silhouettes of the installations reference the Royal Palace and give back to the nature of the location in which they are displayed. For the artist nothing is left to chance, despite the playful approach to the art that has always characterized the Blue and Joy style.
Sigalot's works will also by displayed on the Grand Staircase of Honour and at the entrance of the Royal Palace. In specific works, for the first time, the artist utilizes steel as his media. The exhibition closes with a work made to last 1000 years, and not a minute longer. This chosen piece accompanies and, at the same time, challenges the timelessness of the Royal Palace.
Event Details
June 16, 2017 - July 16, 2017
Royal Palace of Caserta
Viale Douhet, 2/a, 81100 Caserta CE, Italy
Back to News