BIOGRAPHY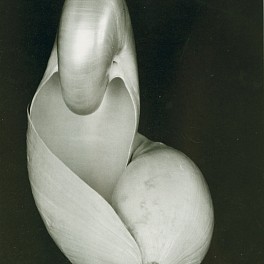 1886 - 1958
Edward Weston was born in Highland Park, Illinois and spent the majority of his childhood in Chicago. He got his first camera as a gift on his 16th birthday and began taking photographs in Chicago parks and his aunt's farm.
In 1903, Weston first had his photographs exhibited at the Chicago Art Institute, and shortly thereafter moved to California, where he decided to stay and pursue a career in photography. For a short while he returned back to Chicago to take a course at the Illinois College of Photography, but came back to California, where he opened his own portrait studio. This would be his base of operation for the next two decades.
Weston gained an international reputation for his high key portraits and modern dance studies. Articles about his work were published in magazines such as American Photography, Photo Era and Photo Miniature.
1922 marked a period of transition for Weston. Renouncing pictorialism in favor of straight photography, he began regular visits to Mexico with his professional and romantic partner, Tina Modotti. Many important portraits and nudes were taken during his time in Mexico. It was also here that famous artists such as Diego Rivera, David Siqueiros, and Jose Orozco hailed Weston as the master of 20th century art.
After 1927, Weston worked mainly with nudes, still life - his shells and vegetable studies were especially important - and landscape subjects. After a few exhibitions of his works in New York, he co-founded Group f/64 in 1932 with Ansel Adams, Willard Van Dyke and others. They chose this optical term because they habitually set their lenses to that aperture to secure maximum image sharpness of both foreground and distance.
In 1937, The Solomon Guggenheim Foundation awarded Weston a fellowship, the first given to a photographer. He received exclusive commissions and published several books during this time.
Weston began experiencing symptoms of Parkinson's disease in 1946 and in 1948 shot his last photograph of Point Lobos. In 1946, the Museum of Modern Art, New York featured a major retrospective of 300 prints of Weston's work. Over the next 10 years of progressively incapacitating illness, Weston supervised the printing of his photographs by his sons. Edward Weston died on January 1, 1958 at his home in Carmel, California.
His comprehensive legacy includes the detailed and articulate "Daybooks" he kept regularly from the mid-1920s to 1934, which allow a very intimate glimpse into his personal life, his views on photography, and his working methods. Weston is generally recognized as one of the greatest photographic artists of the 20th century.